Happy Release Day to Stylo Fantome and the final book in the Kane Trilogy - Reparation! Enjoy a sneak peek into the book below and make sure to enter the giveaway! This week is the blog tour so be on the lookout for what the blogs have to say in addition to a little surprise at the end of the tour for fans of the series. All THREE books will be on SALE so grab it while you can!!!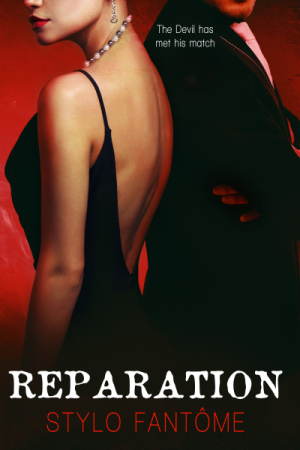 The Devil has met his match
When Tatum O'Shea decides it's time for some payback, no one is safe from her new game - not even the devil himself. Tate is going to get her happily ever after, even if it means making everyone else unhappy in the process. But a persistent Jameson, a meddling Sanders, and an amorous baseball player make it very hard for a girl to keep her focus, and suddenly it seems Tate has a few too many suitors for her fairy tale ending. Sometimes, it's very difficult to tell who Prince Charming really is ...

WARNING: may induce Kindle throwing, screaming at fictional characters, and possibly a few tears. Also graphic sexual situations and sadomasochistic themes.

She showed Ang the sideboard where Jameson kept most of his every day things – a lot of cuff links, tie pins, watches, things of that nature. Everything plated in gold and diamond and platinum. While Ang guffawed over everything, Tate made her way over to the bed. Knelt on top of it and crawled towards Jameson's side. "Holy fuck, Tate, this table holds more money than I'll ever see in my life. I don't know whether to be impressed, or disgusted," Ang called out from behind her. She pulled a box out of Jameson's night stand and then turned back to Ang. "Look at this," she offered, knee walking back towards him. He met her at the edge of the bed and she opened the box. "This is a Jacob and Co. watch." "It's awesome," he said, taking the box into his hands and looking over the timepiece. "It's worth over $300,000." "

Fuck!

" he exclaimed, and dropped the box. It bounced on the mattress and rolled, the lid snapping shut. She laughed and picked it up, sat it on the pillows. "I know, right? Who would spend that kind of money on a watch?" she asked. "Why the fuck would you even let me touch that? That watch is worth more than

I

am," he laughed as well, but he looked a little shaky. "I think it's funny. All this stuff, it's silly," she said, reaching out and playing with the button on the blazer he was wearing. He was taller than Jameson, but leaner. The blazer was pretty loose on him. "It's fucking stupid. A watch!? Why? How often does he wear it?" Ang asked. Tate shrugged, unbuttoning the jacket and pushing it open. "Not often. Once in Spain. You should see the shit he keeps in the safe," she said, plucking at his shirt. He began absent mindedly batting at her hands while he glanced around the room. "You're shitting me. Please tell me it's behind a huge portrait of like his dog or something," he chuckled. She hooked her fingers inside his belt. "No. It's in the closet," she replied. "Tate, what are you doing?" he asked, finally clueing into the fact that she was touching him. She smiled up at him. Ang liked to pretend he liked being poor, turned up his nose at rich people, but really, he was fascinated by it, and even better,

distracted by it

. It was one of the things that had attracted him to Tate, she knew. It was probably part of what drew him to her sister.

Bitch

. "What? I feel like I haven't touched you in a long time," she said, pulling him close and wrapping her arms around his waist. She pressed the side of her face to his chest and he sighed, wrapping his arms around her shoulders. "Are you really okay? You kinda scare me, sometimes," he mumbled. She ignored the sadness in his voice and worked her hands up his back. He felt so different than Jameson. "I'm okay, Ang. I'm happy here. Everything is great," she whispered, massaging her fingers back down his back. He shivered under her touch. "You can always come live with me," he said softly. She laughed low in her throat and pulled away a little, running her hands up and down his sides. "Do you think your

girlfriend

would appreciate that?" she asked, watching him from under hooded eyelids. He ran his hands under her hair, lifting it away from her shoulders and piling it all on the back of her head. "I don't think she'd care, but more importantly,

I

don't care. You've been my best friend for a million years," he replied. She smiled, running her teeth over her bottom lip while she pressed herself against him. "Sometimes a little more than a friend," her voice was soft. He laughed, scratching his fingers over her scalp. "Most of the time. God, we used to have fun," his voice fell into a murmur as his eyes wandered over her face.

Please, don't hate me after this. I have to get my soul back.

"Used to?" she asked, her voice soft as she ran her hands along his body. "Tater tot, we haven't had fun since Satan came to town," he chuckled, his hands moving to the back of her neck. "Hmmm, he's not in town right now," she reminded him. He narrowed his eyes. "No, he's not, and I doubt he would appreciate me seducing his succubus in his lair," he told her. "I doubt he'd care. Besides, succubi are supposed to sleep with lots of people," she pointed out. "Succubi? Is that how you pluralize it?" "Succubuses sounds weird." "Like a slutty bus." "Slutty

buses

." "Wait," he stopped. "Did you just imply that you want to sleep with me?" "Ang. If I laid it on any thicker, I'd be staked out on the mattress," she said bluntly. "I thought it was '

against the rules

', or some bullshit," he said, glancing around the room, like he was checking for hidden cameras, or waiting for Jameson to pounce out of the shadows and eat him. "That was before; besides, since when have you cared about what upsets Jameson?" she evaded answering him. "I don't. But I don't want to piss off Ellie, either. She's not exactly as free a thinker as you and I," he laughed.

I'm counting on that.

"That's not fair. She wouldn't know you if it wasn't for me – she owes me a finders fee," Tate mock pouted, sticking out her bottom lip. He pinched it between his thumb and finger. "What's going on with you, babydoll? Satan not giving it to you good enough?" he laughed. She tilted her head down, drawing his thumb into her mouth and sucking on it. He hissed air through his teeth. She let him go and he dragged his thumb down her chin. "How about you stop worrying about him for tonight. I know I have," she said in a husky voice.

Like that would even be possible.

She knew she had him. The tempation to put something over on Jameson was too great for him. She knew Ang very well, knew how to get to him. They hadn't slept together in a long time – since August. They had quit cold turkey, and he hadn't had a say in the matter. In fact, he'd been pretty angry about it for a while. Here was his chance to strike back. Fuck Tate, in Jameson's bed. In

Satan's home

. Much too hard to resist. She closed her eyes as his head lowered towards hers.

Please, please don't hate me.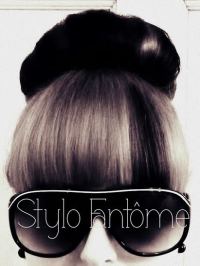 Crazy woman living in an undisclosed location in Alaska (where the need for a creative mind is a necessity!), I have been writing since ..., forever? Yeah, that sounds about right. I have been told that I remind people of Lucille Ball - I also see shades of Jennifer Saunders, and Denis Leary. So basically, I laugh a lot, I'm clumsy a lot, and I say the F-word A LOT. I like dogs more than I like most people, and I don't trust anyone who doesn't drink. No, I do not live in an igloo, and no, the sun does not set for six months out of the year, there's your Alaska lesson for the day. I have mermaid hair - both a curse and a blessing - and most of the time I talk so fast, even I can't understand me. Yeah. I think that about sums me up.

♥READ THE SERIES♥