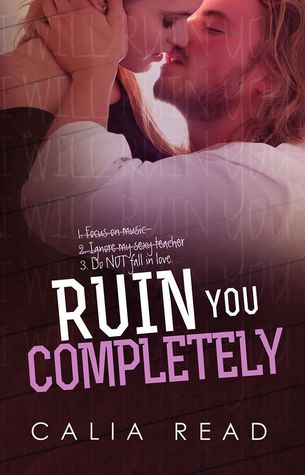 I met Mathias Sloan in a club. Truth. I told him I was twenty-four. Lie. I told him my name was Olivia. Lie. I thought that I would have a one-night stand and be done with him. Truth. I didn't know that he was my new piano instructor for the next six months… Truth. We would come together and fall apart. After him, every man was ruined. Truth. If I knew what I know now, I wouldn't have walked to him. I would've turned and run… LIE.

Neuschwanstein stood tall and imposing to our left. People craned their necks back and took pictures. For the passionate picture takers was a ledge where you could step out and take pictures of the mountains and the stream below. Not a lot of people walked out onto the observation ledge. Forget that it was made out of steel. If you can see the deep ravine beneath you then you're seeing way too much. Most people took a few shots of the castle and hurried off.
Without a second thought I grabbed Mathias' hand and dragged him toward that direction.
I'd been here so many times; the novelty of it should have been old. Yet a rush of excitement ran through me. Maybe it was the tourists or maybe it was the man next to me who gave me this feeling.
That man was now frozen in place like a block of ice. He stared down at the deep ravine as if it was the portal to hell.
He took a step back. I stepped onto the steel ledge. He turned white.
"Come out here and see the view."
Mathias hands disappeared into his jean pockets. He rocked back on his heels, looking ready to bolt.
I couldn't believe it. This man, who towered over most people, was afraid of heights.
"Come on," I coaxed one more time. I couldn't keep the small smile from my face. In my position, I don't think anyone would blame me. It was nice to see that Mathias wasn't perfect. He had flaws. He had fears.
"I'm not scared," he replied quickly.
I quirked a brow and gestured to the open space next to me. "Then come stand next to me."
"Live a little," I challenged. I held my hand out, not expecting him to take it. My hand wavered in the cold air, and I smiled softly and said, "Please?"
My Review
"I don't know what you think I can give you, Katja."
"Everything." I whispered. "You can give me everything. I know it."
I fell in love with Calia Read when I first read Every Which Way 2 years ago. She writes beautifully. Her characters are complex, and the angst she pours onto the pages into the form of a story is without a doubt heart clenching, and sometimes tear inducing (and let's not forget hot, lol).
I knew from that book, way back when, that she would be an automatic go to author. I have gobbled up every book that she has written like a starved fool, and have waited, NOT SO patiently, for the third book in the Sloan Brothers Series, Ruin You Completely.
I was lucky enough to score an ARC of the elusive Mathias's story. I knew what I was getting into before I even started, but what I wasn't prepared for was how quickly Mathias ruined me. He ruined me good. He kicked all of the other BBF's out of their spots and took my heart, gripped it so fiercely and said he wasn't going to let it go.
From the very first page I was hooked. There was no going back. Like the angst junkie I am, I needed my fix.
Mathias is the oldest Sloan brother, and quite frankly, the most brooding. He doesn't let anyone in; keeps everyone at arm's length. Katja is beautiful and innocent in the ways of the world. Ruin You Completely is their story. And believe me when I say it is a heartbreakingly beautiful one.
Mathias has agreed to be Katja's piano instructor for 6 months. There is so much chemistry between the two that lines get blurred, emotions are felt, and ultimately hearts get broke multiple times. Mathias needs to figure out a way to work through his past, to let the beautiful talented Katja love him the way he needs to be loved. Does he??? Honestly, you are going to have to read the book to find out.
J
#MathiasWillRuinYouCompletely
"I looked back on my time with Mathias Sloan as an experience – one that couldn't be dodged or ignored. He swept into my life like a hurricane, destroying everything in his wake."
This book is deserving of so much more than 5 stars. I would give it 10. It is that amazing. Ruin You Completely is the third book in the Sloan Brothers series, but can definitely be read as a standalone. I must say though, that if you haven't read the first two books, Every Which Way, and Breaking The Wrong, then you absolutely should, and be prepared to be consumed for days afterward with Calia's beautiful stories.
Thank you so much, Calia, for writing another story that I have fallen in love with. You are truly a masterful storyteller, and I can NOT wait to read what comes next.


Calia Read lives in Indiana with her husband and their four kids.
♥READ THE SERIES♥
Book 3 - Ruin You Completely - Amazon | B&N

A signed series set of The Sloan Brothers including Every Which Way, Breaking the Wrong and Ruin You Completely AND a signed copy of Unravel